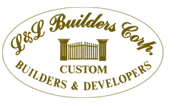 L & L Builder Corp.

Custom Builders & Developers
841 Franklin Ave, Suite 6, Franklin Lakes, NJ 07417
|

201-274-6800
New Jersey Custom Home Builders & Developers
Welcome to the home of L & L Builder
Company Philosophy
We try to make each and every home we build a work of art.
Company History
L&L has constructed over 50 luxury homes ranging in size from 3,000 to 15,000 square feet.
Construction
We will guide you through all phases of the construction process and will help you through the unlimited choices you'll have. Our goal is creating a unique custom home that is perfect for you.
Craftsmanship
We specialize in intricate interior and exterior details. Our framing, roofing and masonry capabilities are second to none. We have the capability to produce most cabinetry and trim work on site, while working with the finest hardware, cabinet and tile companies. The craftsmanship is apparent everywhere - from the unique impression of the whole to the perfection of each detail. Anything less ... simply wouldn't be L&L Builders.
Homesites
L&L honors a responsibility to the aesthetics of your new home's community. We take into the account the lay of the land and neighboring homes. We ensure that your home will be a sound investment of highest quality. We have acquired and have access to some of the best homesites in New Jersey's most desireable locations. It is our pleasure to assist you in site selection and guide you throughout the construction process.
Technology
We offer the most up to date technologies such as lighting control systems, radiant heat, home office automation and media rooms.
Service
Our commitment to customer satisfaction is the foundation of our company. We can translate your needs into a design for just the home you've been dreaming about.
Welcome
Welcome to L&L Builders and Developers of New Jersey. L&L Builders has been serving New Jersey since 1990. We have quickly established ourselves as one of the premiere custom home building teams in the New Jersey area.
Lenny Turi, owner and licensed builder, has the distinction and reputation of building the highest quality custom homes with personal custom service and meticulous attention to detail.
L&L prides itself with being a "hands on" operation. We make the process of homebuilding a pleasant experience and stand behind our work long after your home is completed.
Home For Sale
351 Crescent Dr
Franklin Lakes, NJ
6,000 SF Home on Prime Flat 1 Acre
Shingle Style w Wood Roof and White Exterior w Black Windows
Call for Private Tour
Home For Sale
19 Point Rd
Wayne, NJ
Unique Opportunity to Build on one of the best lakefront communities in NJ
1 acre on Pines Lake NJ. 5,500 SF Home w room for Pool.
Call for Details